CONTACT US to schedule your balloon ride.
Sunset flights year-round weather permitting. Sunrise flights limited times of the year.

Our rates are as follows:

$590 for two person exclusive (private) - most popular!
(no other passengers will be grouped with you in the same basket)

$790.00 for three person exclusive (private)
(no other passengers will be grouped with you in the same basket)

$225 per person non-exclusive (shared)
(you will be grouped with other passengers in the same basket
We must schedule shared rides based on the availability of other passengers)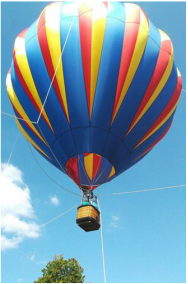 Tethered Balloon Rides Available!

Please call for a custom quote.

A tethered balloon can accommodate approximately 50 riders per hour.

Great for corporate or private events and parties.
---
Plan to spend approximately 3 hours in total with us. After meeting at the launch site we will layout and assemble the balloon and prepare it for flight. After a gentle liftoff we will float on the breeze over the countryside for approximately 40-60 minutes, depending on the direction and speed of the wind which determines our available landing sites. We like to fly at a few different elevations to enjoy the panoramas offered by each. Our crew will be following us in the chase vehicle and will be there when we land to help pack up the balloon and drive us all back to the launch site. Once back at the field we will partake of the time-honored ballooning tradition of a champagne toast as well as enjoying other beverages and light snacks.
Payment and Cancellation Policies:
We will send email confirmation of your reservation. A 50% deposit is due (check, credit card, or PayPal) at the time of your reservation. Full payment is due upon completion of your flight. We require 48 hours notice of passenger cancellation. At that time we will either reschedule your flight or provide you with a full refund of your deposit. Passengers who do not arrive in time for their flight will NOT receive a refund of their deposit. You are expected to arrive at or before your scheduled meeting time.

All flights are weather permitting at the sole discretion of the pilot. Please be advised that weather conditions may cause your flight to be canceled. We will make every effort to contact you as early in advance as possible if weather conditions are not favorable for a flight. If your flight is canceled by us due to weather we will gladly reschedule you for another date or provide you with a full refund of your deposit.

High quality GIFT CERTIFICATES are available. Gift certificates require payment in full and are non-refundable. Certificates will be mailed to you upon receipt of payment. We will complete the "Certificate #", "Type of Certificate" and "Date Issued". We will leave the "To" and "From" blank for you to fill out.

Please contact us by phone or email to purchase a gift certificate.

We accept PayPal, credit cards and checks. We can send you a PayPal invoice, take credit cards over the phone (or in person) or you can mail us a check.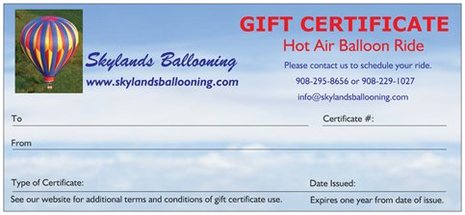 Purchase a GIFT CERTIFICATE for someone special.... any occasion...
---